THE LIBRARY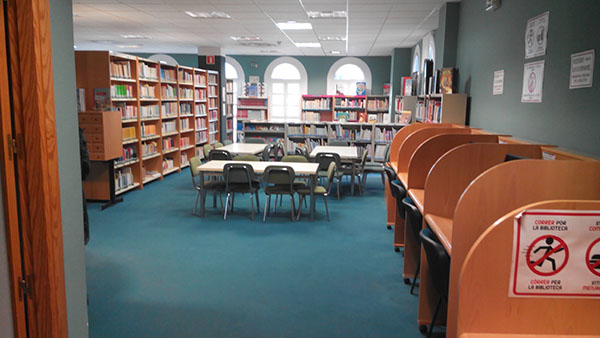 Opening hours and location
---
Opening hours:
Monday to Friday: 9:00h. to 20:30 h.
Saturday: 9:30 h. to 13:30 h
Summer time (August 1 to 31)
Monday to Friday: 9:00h. to 20:30 h.
Address: Avenida Masnou, 1- 1º (Cultural Centre Jaume Pastor i Fluixá) | 03710 Calp (Alacant) Telephone: 965 83 99 05
E-mail: biblioteca@ajcalp.es
SERVICES
Bibliographic information
---
Service that will attend all kinds of requests, such as:
Helping readers to consult the free access collection to find documents.
Providing help in the catalogue consultation.
Reporting on catalogues of other libraries, etc
Providing information about library services, etc
Searching resources
---
Collection:
General collection. Access is free; user can find encyclopaedias, dictionaries, yearbooks, legislation books, basic manuals, literary works, etc.
Local collection. Access is free, it informs about subjects concerning Calp.
For their use and consultation, users must search in the automated catalogue: Valencian Public Reading Network – Library of Calp
Internet - Wifi
---
The Library is equipped in all its facilities with WIFI zone. It also offers 4 public computers for consultation with Internet access plus 9 tables with electrical connections for laptops. Use must respect the regulations, on request in the counter of the Room for Consultation and Reading. Through Internet users can access the catalogue of many libraries or free documents in virtual libraries.
LIBRARIES CATALOGUES
VIRTUAL LIBRARIES
Library of Children and Youth Literature
Press and Magazines
---
It is located in the same Room for Consultation and Reading. Access is free and the collection is excluded from the loan.
Users have the possibility to consult the newspapers up to one month before the current month and the magazines up to one year ago.
Loan
---
The collection consists of books for home loans.
To use this service it is necessary to have the reader's card, which can only be used by its holder.
The card is free and is requested in person at the Library.
Requirements:
Complete the application form
A passport-sized photo
Identification document (Spanish ID or passport)
Any user in possession of the reader's card will be able to use the loan service of all the libraries integrated in the Electronic Network of Valencian Public Reading.
Document reservation
---
The reader interested in a special document that is already borrowed, can make its reservation.
Interlibrary loan
---
Through the interlibrary loan users can request documents from any library, with the limitations established by the owner Library.
Library desiderata
---
Users can suggest the purchase of documents that are not in the Library collection, which are of interest, as long as the documents coincide with the purchase policy of the Library.
Children and Youth Section
---
It is located in the same Room for Consultation and Reading.